Do you Need cleaning of carpets, area rugs, upholstery, tile and grout, or air ducts now?
Fill up the form to request for a quote or schedule for a free appointment. We'll get back to you as soon as possible.
Carpet Cleaning Manalapan, NJ Since 1989
Grout is the one thing standing between dingy-looking floor and tile which actually pops. Knowing how to clean grout is very important for walls, flooring, and counters that appear sparkly clean.
While tile is resistant to dirt and stains, the lines between the tiles are porous, meaning they will absorb any dirt, grime, or clogs they come into contact with. To buff away the stains, without damaging delicate finishes and tiles, try our grout cleaning services. It's likely to keep it looking its best, although learning how to clean grout won't prolong the life span of your tile. 
Professional Grout cleaning in Manalapan Township, New jersey
If there is one thing that homeowners hate, it is grout and tile cleaning! And why not? All the cold and hot water treatments, the scrubbing and the wiping will take up a lot of a person's time and energy. To top it all, household products might not be as effective in removing dirt and stains that have collected over months. So, why not leave this to professionals who possess the tools in addition to the experience to make your tiles look brand new again?
PowerPro Carpet and Rug Cleaning Service has 32 years of combined business expertise in addition to the latest equipments for tile & grout cleaning in Manalapan Township, NJ. We're essentially your one-stop-shop to eliminate dirt and grime out of tiles and leave it looking pristine and perfectly clean!
Grout Cleaning Tips and Techniques
Grout is contrary to other surfaces and materials found in the home. Homeowners must use particular strategies to maintain their grout in good form. Grout can be easily damaged, so be careful to make certain that your technique is not wearing away your grout or the surrounding tiles.
Prep Before Scrubbing
Before scrubbing, prepare the surface by removing all loose dirt and grime.
1. Dry mop.
Begin with sweeping, dry mopping or wiping the area with a microfiber cloth. This is a powerful tool for cleaning grout since dirt adheres to microfiber. This substance is an effective product for removing dirt from small cracks and crevices, such as the spaces between tiles.
2. Wipe with hot water.
Wipe the surface with a sponge and warm water. This can help collect any residual dirt on the surface before beginning scrubbing.
3. Dry standing water.
Eliminate any pools of water on the surface of the tile. Use a dry rag. The tile doesn't need to be completely dry, but should be mostly dry before applying grout cleaner.
Scrubbing Best Practices
After the grout surface has been swept, rinsed off and dried, it is time to apply the grout cleaner of your choice. When using a commercially available item, follow all manufacturer instructions and safety precautions. Below are some of the best methods for scrubbing:
Suit up. Wear gloves and eye protection, if the cleaning product used is caustic or acidic.
Let the cleaner do the job. Permit the cleaning product to sit for at least 10-15 minutes before trying to scrub the grout.
Scrub in a circular motion. Use a gentle scrub brush, like a soft-bristle toothbrush, to wash along the grout lines.
Use an electric toothbrush, if you have one to use for grout especially. Regardless of what process or method you use, be prepared to put effort and a little elbow grease on your process.
Frequent Cleaning Solutions
Some traditional grout-cleaning methods can be extremely harsh. Even though it appears powerful, grout is not very durable. Cleaning with goods that are too harsh can lead to erosion of its surface.
To safeguard your cleaning products are just suitable clean your grout (not too harsh and not too gentle ), start with the mildest products and work up to stronger chemicals as needed. It's a wonderful idea to check areas concealed under appliances behind the restroom, if in doubt.
Use caution when mixing chemicals, and operate in well-ventilated places. Read all directions before using a new cleaning product on your grout, and inspect the business's information to ensure that the product you choose is safe to use on grout.
With 32 years of combined industry experience, we know how important Grout Cleaning is
For the majority of us, tile and grout cleaning would be the bane of our existence as homeowners. Since we hate the process so much, we will put it off for as long as possible, which can be a mistake. That is because the longer we let it go, the tougher it is to do, and that is bearing in mind that many household cleaning products are useless for getting out stubborn stains that settle in the grout itself or between the tile grooves.
However, why is it so hard, anyway? Over time, dirt, dust, and other contaminants will build up. This discolors the appearance of both your tiles as well as the grout. Day to day cleaning methods simply are not powerful enough to break through the buildup, especially dirt that has gotten trapped inside the pores of the tile and grout.
That is the bad thing, but here is the great news. If you prefer your grout and tile looking as good as new, call the professionals in PowerPro Carpet and Rug Cleaning Service. We have got the technology accessible to completely remove dirt, gunk, and other contaminants, even the stains which refuse to emerge. After we do cleaning, we will apply a protective coating to keep discoloration and mildew away. Whether you've tile made from ceramic, ceramic, slate, granite, or other substances, we will have it looking amazing.
With over thirty years of combined experience, cutting edge technology, and an approach that is hands-on and detail oriented, you do not need to think about the job being done correctly. Additionally, with service rates which are competitive and reasonable, tile and grout cleaning won't break the bank.
For those who have questions, concerns, or you are ready to schedule an appointment, contact us now.
Professional Grout Cleaning Services
Besides money wasted trying different products and services, cleaning grout takes time and tons of effort. For some homeowners, it is much better to hire a professional. Most cleaning companies will guarantee their work, making this an ideal solution for a number of people. Other specialists to consider:
Grout Maintenance
The best way to keep the grout clean is through routine maintenance and preventative measures. Grout is very porous and readily absorbs dirt and moisture in the environment. Homeowners need to be diligent to maintain their grout looking its best and from harboring germs.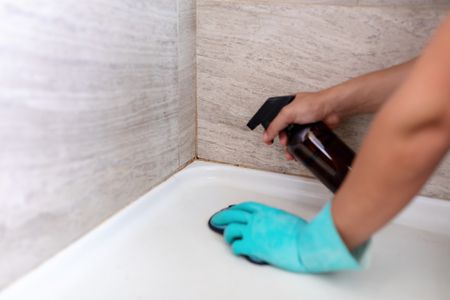 Maintain Grout Dry
Mold and mildew will grow easily if the grout is often wet. You may protect against mold and mildew by paying particular attention to maintaining the grout dry.
Run the port in the bathroom after showering.
Squeegee your bathtub walls.
Wash rugs & towels that touch tiled surfaces regularly.
Do not put off fixing leaks
Seal the grout.
Develop a Maintenance Routine
Whether you're drying your walls or spraying them with vinegar, then your grout will still must be cleaned on a regular basis, especially in high traffic areas on the ground. Use a microfiber fabric to sweep daily, wash the area weekly and wash grout regularly to keep it in great shape.
High traffic areas on the ground might need to be scrubbed with cleaner once a month, while low-traffic areas may require scrubbing just once or twice per year.
Some folks recommend spraying the walls of your shower with a 1:1 vinegar and water solution. Vinegar has a drying effect and kills bacteria. Spraying your shower with vinegar on a regular basis can help prevent the growth of mould and mildew.
REQUEST FOR AN APPOINTMENT
Fill up the form to request for a quote or schedule for a free appointment. We'll get back to you as soon as possible.
Why Choose Our Grout Cleaning Services?
Deep cleaning your tiles and grout every six months is imperative to maintain the hygiene of your house, especially if you have pets and kids. Since grout has porous properties, grime and dirt can easily collect on the grout lines with time. Your tiles also, need some tender loving care every now and then in case you would like to keep your floor's sheen and luster.
However, scrubbing every nook and corner might not be feasible for you. Selecting a professional grout and tile cleaning business in Manalapan Township, New Jersey like PowerPro Carpet and Rug Cleaning Service to do the hard work for you is your best solution for this! We supply hands free and detail-oriented professional tile cleaning solutions so you can rest assured when you put your confidence in us.
Remember your tiles and grout can become breeding grounds for viruses, harmful bacteria, and germs, particularly on your kitchen and bathroom. This may cause a wide assortment of diseases, which is the reason why it's necessary to walk the extra mile to get rid of such organisms and wash your floors with the aid of tile flooring cleaning firms on a regular basis.
In PowerPro Carpet and Rug Cleaning Service, we use 100% secure, powerful grout & tile cleaners and tailor our solutions based on the sort of your tiles and its problem. Whether your tiles are made from porcelain, marble, granite, ceramic, or walnut, we have got you covered! We use techniques like the hot water extraction procedure and grout and tile steam cleaning to deep clean your floors and ensure that no residue is left behind. Our cleaning plans are incredibly affordable too!
When you have any questions regarding our grout and tile special cleaning treatment programs , we would like to answer them for you!