Do you Need cleaning of carpets, area rugs, upholstery, tile and grout, or air ducts now?
Fill up the form to request for a quote or schedule for a free appointment. We'll get back to you as soon as possible.
Carpet Cleaning Manalapan, NJ Since 1989
When there's furniture in your house, you will take a professional upholstery cleaning. From rugs to furniture to curtains, there are a selection of advantages to using a professional clean the upholstery in the house.
A clean home has significant impacts on a household's health. A study conducted by Indiana University concluded that individuals who have clean homes are healthier than those who have cluttered homes.
But who has the time to keep up with the housework? Between daily upkeep and enormous seasonal tasks, there might not be enough time in the day to worry about the upholstery. However, hiring a professional carpet or upholstery cleaning service can take a lot from homeowners' plates, particularly this time of year prior to the holidays.
ExTend the Lifespan of Your Furniture
One of the top benefits of upholstery cleaning is your upholstery cleaning solutions can help prolong the lifespan of your furniture. Odds are, you may decide to replace it if your sofa or stuffed seat gets coated in dirt and stains.
But with the remarkable cleaning power that is being provided by your cleaning technicians, you can restore your furniture like new condition.
Upholstery Cleaning Methods
Before you call for upholstery cleaning services near you, consider some basic hints that will assist you remove surface stains, set-in stains, ground-in dirt, and other unsightly debris out of your fabric furniture. Don't forget to test upholstery cleaning processes on a hidden area of the fabric, to test how the fabric responds to different cleaning processes and tools.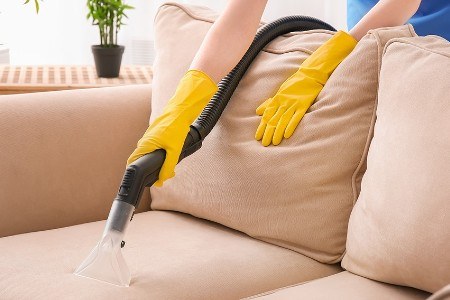 Start upholstery and sofa cleaning using an extensive vacuuming, using the fabric brush attachment on your vacuum cleaner hose or a handheld vacuum device. Make certain you enter the crevices of the furniture and also spend some time going over the stained area, to pull up as much debris as possible.
Use a dry brush to scrape away as much residue as possible and to "fluff up" the fibers of the fabric. Your fabric will look cleaner and you will be able to attain set-in stains more easily once fibers are fully restored.
For damp stains, blot the area with a clean, dry cloth, to pull up as much liquid and moisture as possible. Keep changing to a sterile cloth or sterile space of your fabric to be sure you eliminate as much residue as possible without pushing dirt and debris to the cloth.
The moment you have blotted as excessive moisture as possible, use a clean damp cloth and blot fresh water to the stain, rubbing in a gentle circular motion to pull up residue and debris. Be certain that you use small circles so that you do not actually spread the stain around the fabric!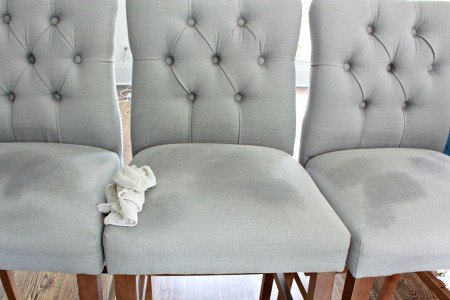 Baking soda is a superb cleaning cloth for fabric furniture. Mix a small amount of baking soda and water in a bowl to make a paste and then gently push this paste to the blot with a clean damp cloth. Rub the baking soda in a circular movement to pull up debris and dirt and then use a clean, damp cloth to remove as much of the baking soda as you can.
The bubbling activity of club soda also helps to lift trapped and locked stains so you can wipe up food residues and other debris. Pour only a very small bit of club soda on the stain and use a damp, clean cloth to wipe the area dry.
Whenever you have followed these steps, use your dry brush to wash off any lingering residue and use a vacuum to pull up dust, soil, and water used for washing. Permit the fabric furniture dry completely before you assess your upholstery cleaning attempts!
Improve the Indoor Air Quality of Your Home
In addition to helping to prolong the lifespan of your own furniture, specialist upholstery cleaning may also improve your indoor air quality. Upholstered furniture can be a source of unique particles, mites, and dust.
When these particles enter your atmosphere, you might begin to experience health issues. With a clean that is professional, you can make certain you and your family are breathing healthy air.
The Five Benefits of Professional Upholstery Cleaning
There are a number of benefits to receiving the upholstery in the house professionally cleaned. The CDC recommends keeping the house clean to prevent the spread of illness, but there are far more benefits to having a professionally cleaned upholstery. Listed below are a few of them:
1. Better Air Quality in the Home
The upholstery in the house hastens allergens naturally. Professional upholstery cleaning removes allergens such as dander, pollen, and dust. These allergens commonly irritate the eyes, nose, and throat of both pets and people in the home. When these allergens are eliminated, everybody in the home experiences better air quality and better health.
2. Longer Furniture Life
Possessing the upholstery cleaned professionally will lengthen the usable life of the furniture in the home. Regular professional upholstery cleaning prevents long-term stains from forming on the furniture.
Furthermore, cleaning the furniture removes buildups of scents, body oil, and dust which may permanently attach themselves into the cloth. Maintaining a regular cleaning program for all the upholstery in the home will lengthen the life span of their furniture and will save homeowners money in the long run.
3. Aesthetics
Admittedly, it is no surprise to homeowners who wash furniture looks better than dirty furniture. A professional upholstery cleaning leaves all of the furniture in the home looking fresh and new. Moreover, the integrity of the sofa cushions is maintained by routine cleans and they'll look better and last longer.
4. Fresher Smell
From food spills to animal odors to teens' perspiration, the furniture's upholstery assembles a ton of scents throughout its lifetime. While homeowners may be tempted to use cloth freshening products, these products just cover the odor and do not deal with the origin.
A professional upholstery cleaning is the only way to rid the furniture of undesirable and invasive scents really. A fresh-smelling home is a comfortable home for everybody, people, and animals alike.
5. Safest Cleaning Practices
Professional carpet cleaning businesses which offer upholstery cleaning solutions have experience with an assortment of different fabric types. When homeowners hire a professional upholstery cleaner, they do not have to be concerned about any damage to their furniture. The professionals identify the safest cleaning clinic for every single bit of furniture, plus they have all of the equipment.
REQUEST FOR AN APPOINTMENT
Fill up the form to request for a quote or schedule for a free appointment. We'll get back to you as soon as possible.
When Choosing a Professional Upholstery Cleaner, Be Particular To:
Inform the carpet specialist or upholstery cleaners of any allergies or sensitivities to some compounds from the home.
Mention what sort of and the amount of pets reside at the home.
Inform the cleaner if any very small children are in the house or some who invest substantial time on the carpeting or furniture.
How Can PowerPro Carpet and Rug Cleaning Service Help?
PowerPro Carpet and Rug Cleaning Service operates in Manalapan Township, NJ – area residents and business owners employing a huge selection of professional carpet cleaning and upholstery cleaning services. The staff at PowerPro Carpet and Rug Cleaning Service have years of joint carpet maintenance expertise, and they're devoted to providing high quality carpet cleaning and client care.
If the furniture in the house requires cleaning, contact PowerPro Carpet and Rug Cleaning Service now for a free estimate. Know that our testimonial score from previous clients is five stars and call today!