Air Duct Cleaning In Manalapan Township, New jersey
When was the last time you had your air ducts cleaned?
Each year, the average home accumulates up to 40 pounds of dirt, allergens and dust in its air ducts. And, each time you use your heating or air conditioning these pollutants are circulated through your house, aggravating respiratory conditions such as asthma. This is the reason it's important to invest in a professional air duct cleaning services.
In PowerPro Carpet and Rug Cleaning Service, we utilize a strong HEPA-filtered vacuum to clean air ducts and vents. This vacuum flushes all traces of dust and dirt from your air ducts, eliminating them from your dwelling.
What's Duct Cleaning?
Air duct cleaning is the practice of eliminating dust, mold and other contaminants from the heating and air conditioning system ductwork. According to the EPA, "Air duct cleaning generally refers to the cleaning of various heating and cooling system components of forced air systems, including the supply and return air ducts and registers, grilles and diffusers, heat exchangers heating and cooling coils, condensate drain pans (drip pans), fan motor and fan housing, and the air handling unit housing."
Indoor air pollution was recognized as a high health hazard from the USA and air duct cleaning have demonstrated to greatly reduce air pollutants, making your home a healthier place to live.
Air duct cleaning can also boost your home HVAC system's efficiency. If your air ducts are clean and air is flowing freely, your HVAC system doesn't need to function as power can be used, lowering your energy bills!
Our Air Duct Cleaning Process
PowerPro Carpet and Rug Cleaning Service follows the rigorous criteria set forth by the National Air Duct Cleaners Association (NADCA) when performing air duct cleaning.
Our courteous and trained air duct cleaning technicians use the following process:
Our technicians will greet you and carefully examine the services you have requested, describing our air duct cleaning process in detail.
Your home will be prepared for air duct cleaning, making sure that all vents and yields are available, and placing protective flooring covers and corner guards where necessary.
Our technicians will seal your vents and returns before the duct cleaning starts , and set your ac ducts under negative pressure to maximize air flow.
We Will combine a strong vacuum device for your primary trunk line, which will collect dust, dirt, mold and other contaminants which are dislodged through the air duct cleaning.
High driven compressed air whips will be put to the ductwork to dislodge the dirt and debris, which is accumulated in the containment unit.
After the duct cleaning procedure is completed , we shall seal the access gap on your primary trunk line with a metallic entrance panel, based on NADCA criteria.
Our technician will review your air duct cleaning project with you to ensure your satisfaction, and answer any queries you may have.
Our Air Duct Cleaning resources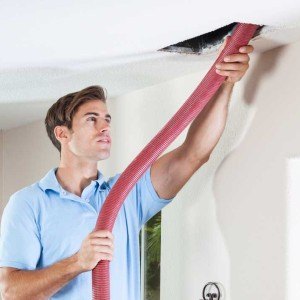 When To Have Your Air Ducts Cleaned?
Should you know that you will need to dust and sweep over normal.
Should you experience bigger than ordinary utility bills – clean air ducts may increase your system's efficiency.
When allergy signs appear, especially after air starts into flow – clean air ducts can remove particulates such as dust and mold , which can be known causes.
If rooms on your home have small if any air flow coming from the air conditioning vents Air ducts can help restore air flow through your ventilation system.
Why Air Duct Cleaning is Vital
Cleaning your air ducts and eliminating blisters that infiltrate your home can help subside frequent signs of allergies and asthma.
Removing dirt that is built up on your system over the span of 5+ years can allow you to maintain a cleaner house. Clean ducts imply less dirt which circulates in your house and on your air.
Indoor air can often be two to five times more polluted than outside air. Getting your air ducts cleaned helps to enhance indoor air quality.
Dirt buildup and other contaminants in your vents may limit airflow. This causes your unit to operate less efficiently and not correctly blow out cold or hot air as you want it to.
By using a clean HVAC system, your enhanced energy efficiency may also translate to reduce utility bills and will help prolong the life span of your system by reducing wear and tear.
D.I.Y. Air Duct cleaning
You've scrutinized your air duct system and are not too thrilled by your own discoveries. You decide that a good cleaning is in order and you want to do it yourself.
Regardless, of your motives (suspicious of home cleaning businesses, budget, challenge, etc.) you will need to comprehend exactly what is intended by air duct cleaning and the scope of this kind of operation. First, cleaning air ducts means cleaning a entire technique of heating and cooling components . This includes all the components of forced air systems such as air supply and return air ducts, registers, grills, diffusers, cooling coils, heat exchangers and drip pans, and house units. The listing may appear long, but you will need to know precisely that you're getting into so things are done correctly .
Never forget that when it comes to duct cleaning, no measure can be skipped, and the pollutants or contaminants which collect on your duct system have to be eradicated 100%, otherwise you risk re-contamination of this entire system.
Getting started
Like any other home improvement operation, you will need to find the appropriate tools prior to starting. Here are the essentials:
Protective gloves and mask
Bucket of water
Rags and towels
Mop
Vacuum cleaner with hose attachment
Duct tape
Broomstick
Long handled brush
Sturdy ladder
Screwdriver
Process
1. Before the ducts are cleaned, each heating vent in the home is coated with a plastic bag. This barrier will protect the home from any dust stirred up during the cleaning process and will provide a visual cue to locate that there is appropriate suction to the duct cleaning system.
2. Air ducts with openings in walls, ceiling and flooring of your home have port covers, return-air grilles or registers on them. First, remove the air duct cover discs with a ladder when required and check the walls inside to ensure there aren't any unexpected surprises such as dead rodents or gathered mold .
3. Cleaning registers is vital, as they act as filters that trap allergens and other contaminants. Place the registers on a paper that is spreads on the floor. Soak the rag or towel in a home cleaning solution of warm water and detergent, and wash the dirt away from the grille or the registers. Let them dry in the sunlight to eliminate all traces of moisture. Immediately eliminate this paper.
4. Use the vacuum cleaner hose and brush to wash out the true air ducts. When this is finished , wet a sponge with the household cleaning solution and wash the inside of the air duct. Reach your arms as far as possible within the air duct. Don't forget to wear gloves. Hand gloves prevent accidents usually caused by by razor-sharp sides or screws present within the duct function. Repeat the entire process with each port and ductwork section. After all the filters and vent covers are back in place, flip the breaker back on, turn on your central ac unit and allow the fan to operate for at least an hour.
5. Place all vents and fastening devices back in place and tighten any screws with the screw driver. If you're cleaning the ducts which visit your air/heat system you must also replace any filters right now.
REQUEST FOR AN APPOINTMENT
Fill up the form to request for a quote or schedule for a free appointment. We'll get back to you as soon as possible.
when to hire AIR DUCT cleaning service
Among those most important motives you will need to hire professional air duct cleaning company is the equipment they have. Indeed, professionals have the necessary hardware to efficiently remove debris without creating a mess in the procedure.
While basic cleaning operations are easy enough to do, if you need to guarantee they are done properly , your very best bet is using a specialist. They have the knowledge and equipment to perform a extensive job at a reasonable time interval .
Many air duct cleaning companies are equipped with powerful vacuuming machines that suck debris from the ducts while keeping it from being blown through the house. They have powerful tools to remove pet hair, dander, dust, rodent droppings and other little crap that fall to the vents.
Call us for more information on our air duct cleaning services at (732) 347-7878 or our contact form.
Call Us
(732) 347-7878
Visit Us
345 Highway 9 South, Unit 312, Manalapan Township, NJ 07726
Email Us
admin@powerprocarpetcleaning.com
PowerPro Carpet and Rug Cleaning Service
We provide carpet cleaning services, area rug cleaning, upholstery cleaning as well as tile and grout cleaning, air duct cleaning and water damage restoration services to homes and businesses in Manalapan Township, NJ.
Our Services
Quick Links